19.01.2022 13:40
Research projects, Cooperation agreements
Scalable diamond-based quantum microprocessors under development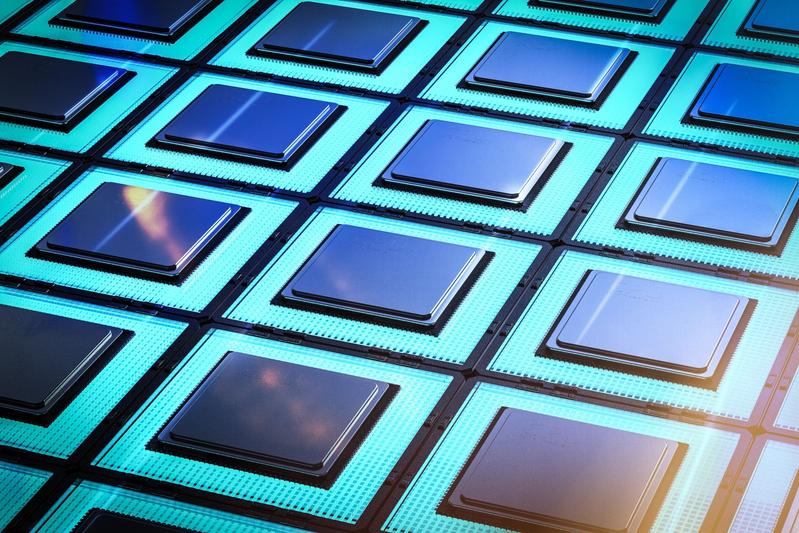 Hinweis zur Verwendung von Bildmaterial: Die Verwendung des Bildmaterials zur Pressemitteilung ist bei Nennung der Quelle vergütungsfrei gestattet. Das Bildmaterial darf nur in Zusammenhang mit dem Inhalt dieser Pressemitteilung verwendet werden. Falls Sie das Bild in höherer Auflösung benötigen oder Rückfragen zur Weiterverwendung haben, wenden Sie sich bitte direkt an die Pressestelle, die es veröffentlicht hat.
Providing the conditions for scalable diamond quantum microprocessors and thus advancing the economic usability of quantum computing in Germany—this is what the joint project "Deutsche Brilliance" has been working on since December 1, 2021. The BMBF is funding the cooperation between Fraunhofer IAF, the start-up Quantum Brilliance and Ulm University for three years with 15.6 million euros through the "Enabling Start-up" measure. For the best possible exchange between the project partners, a team of Quantum Brilliance is located at Fraunhofer IAF.
The joint project "Deutsche Brilliance" (DE-Brill) aims to harness the special material properties of diamond and develop technologies for manufacturing and controlling diamond-based quantum microprocessors ("quantum processing units", QPUs) by 2025. The project team consists of the Australian-German start-up Quantum Brilliance, the Freiburg-based Fraunhofer Institute for Applied Solid State Physics IAF and the Institute of Quantum Optics at Ulm University.
QPUs are intended to provide quantum advantages for applications such as edge computing—a basic technological prerequisite for the complex infrastructure of the Internet of Things ("IoT"), which in perspective can enable autonomous mobility and digitized industrial production. The German Federal Ministry of Education and Research (BMBF) is supporting the project for three years with 15.6 million euros through the funding measure "Enabling Start-up—Start-ups in Quantum Technologies and Photonics". The total project volume is 19.9 million euros.
Advantages and limitations of diamond-based quantum computers
A central challenge in the development of quantum computers is the technological realization of quantum bits (qubits). Various approaches exist for the creation of qubits. They can, for example, be created based on nuclear spins in solids. In this regard, a still young approach is the use of diamond as a host material. Diamond-based quantum computers promise significant advantages in practical applications: they can be built and operated more energy-efficiently, reliably and compactly than quantum processors based on superconducting qubits. There is no need for cooling them to cryogenic temperatures and evacuating them in complex systems. In fact, diamond qubits operate at room temperature and ordinary pressure ratios due to the extremely stable diamond crystal lattice.
Diamond qubits are created through the quantum entanglement of quasi-free electrons in nitrogen-vacancy centers ("NV centers") of the diamond crystal lattice. However, current methods for the fabrication of such NV centers do not allow an upscaling of diamond-based qubits to sufficiently large assemblies of multiple qubits in the form of arrays, which are needed for quantum computing. So far, there is a lack of methods that allow a defined placement of nitrogen atoms in the crystal lattice. This, however, is necessary for the coupling of multiple NV centers to create larger arrays.
Manufacturing process for the base material of scalable diamond quantum computers
In the course of its subproposal within the joint project, Fraunhofer IAF is developing growth processes for diamond substrates of the highest purity and quality. In close collaboration with Quantum Brilliance, it is also designing precision manufacturing techniques for the production of scalable arrays of diamond qubits. Researchers of Fraunhofer IAF aim to achieve the necessary local accuracy in the placement of nitrogen atoms of less than one nanometer using scanning probe microscopy.
"This approach for the targeted placement of NV centers is so far unique and a crucial step towards scaling NV arrays for quantum computing applications," explains Dr. Ralf Ostendorf, project leader on the side of Fraunhofer IAF. For this reason, the joint project "DE-Brill" will also contribute to the further development of the technology with regard to future research projects as well as industrial applications in the fields of sensor technology, imaging or communication.
Parallel to the Fraunhofer IAF subproject, a team led by Prof. Dr. Fedor Jelezko at the Institute for Quantum Optics of Ulm University is working on defining scalable readout and control techniques for diamond-based qubits, which will allow their precise operation.
Quantum Brilliance at the site of Fraunhofer IAF
Fraunhofer IAF and Quantum Brilliance are working closely together within the framework of "DE-Brill". In order to make the best possible use of the facility infrastructure at the Freiburg site and to ensure short exchange cycles, Fraunhofer IAF has welcomed a team from Quantum Brilliance to exclusively use the institute's own premises for this purpose.
The joint location allows the partners to react quickly to measurement and characterization results, to directly improve ongoing experimental processes and to maintain a continuous exchange of knowledge. "The fact that we can work together on site at Fraunhofer IAF enables us to achieve an unprecedented mutual transfer of know-how, from which the project benefits greatly," emphasizes Dr. Mark Mattingley-Scott, General Manager of Quantum Brilliance, who is responsible for the European economic region.

About Quantum Brilliance
Founded in 2019, Quantum Brilliance is a venture-backed Australian-German quantum computing hardware company, providing diamond quantum accelerators supported by a full stack of software and application tools. Quantum Brilliance harnesses synthetic diamonds to build quantum accelerators that do not require near absolute zero temperature or complex laser systems to operate like mainframe quantum computers. Quantum Brilliance's vision to enable mass deployment of quantum accelerators will propel industries to harness edge computing applications and next-generation supercomputers. Quantum Brilliance has partnerships in North America, Europe, and Asia-Pacific, and works with governments, supercomputing centers, research institutions, and IT industry leaders.
https://quantumbrilliance.com/
About Fraunhofer IAF
The Fraunhofer Institute for Applied Solid State Physics IAF is one of the world's leading research institutions in the fields of III-V semiconductors and synthetic diamond. Based on these materials, Fraunhofer IAF develops components for future-oriented technologies, such as electronic circuits for innovative communication and mobility solutions, laser systems for real-time spectroscopy, novel hardware components for quantum computing as well as quantum sensors for industrial applications. With its research and development, the Freiburg research institute covers the entire value chain – from materials research, design and processing to modules, systems and demonstrators.
https://www.iaf.fraunhofer.de/en
About Ulm University
As a young research university, Ulm University is dedicated to global challenges: 12 strategic and interdisciplinary research areas are oriented towards the overarching themes of aging, sustainability, technology of the future, and people and health. The research strength of Ulm University is evidenced by high third-party funding revenues and numerous large collaborative projects such as collaborative research centers and a cluster of excellence.
Founded in 1967 as a medical-scientific university, today more than 10,000 students are distributed among the faculties of "Medicine", "Natural Sciences", "Mathematics and Economics", and "Engineering, Computer Science and Psychology". More than 60 degree programs, including an increasing number of English-language programs, offer excellent career prospects. At the same time, Ulm University is excellently networked both internationally and regionally.
Ulm University is the driving force and center of the science city with non-university research institutions, maximum care clinics, and technology companies. The location in the middle of an economically strong region offers excellent conditions for technology and knowledge transfer.
https://www.uni-ulm.de/en/research/

The joint project "DE-Brill" is funded by the German Federal Ministry of Education and Research (BMBF).

Contact:
Lukas Kübler | Fraunhofer Institute for Applied Solid State Physics IAF | Phone +49 761 5159-261 | lukas.kuebler@iaf.fraunhofer.de
---
Weitere Informationen:
https://www.iaf.fraunhofer.de/en/media-library/press-releases/scalable-diamond-based-quantum-microprocessors.html

---
Die semantisch ähnlichsten Pressemitteilungen im idw