15.06.2022 16:28
Scientific conferences
Abstract deadline extended to June 26: GBM Fall Conference 2022 - The Molecular Basis of Life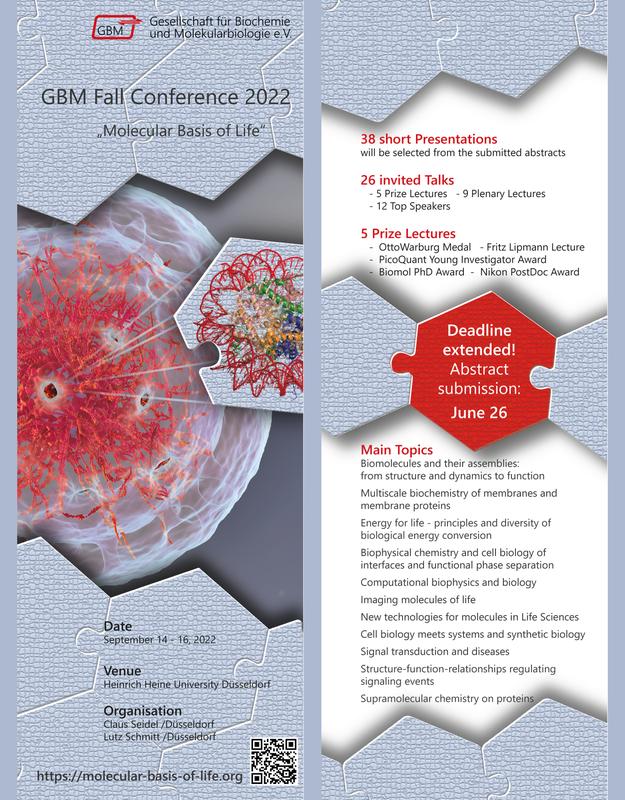 Hinweis zur Verwendung von Bildmaterial: Die Verwendung des Bildmaterials zur Pressemitteilung ist bei Nennung der Quelle vergütungsfrei gestattet. Das Bildmaterial darf nur in Zusammenhang mit dem Inhalt dieser Pressemitteilung verwendet werden. Falls Sie das Bild in höherer Auflösung benötigen oder Rückfragen zur Weiterverwendung haben, wenden Sie sich bitte direkt an die Pressestelle, die es veröffentlicht hat.
The international fall conference of the German Society for Biochemistry and Molecular Biology (GBM e.V.) will take place from September 14th to 16th 2022, at Heinrich Heine University Düsseldorf. With this congress, GBM will bring together a wide range of researchers from Germany and from across the globe to explore 'The Molecular Basis of Life'. Organizers are Claus Seidel and Lutz Schmitt (both at Düsseldorf University) in cooperation with the GBM study groups.
The abstract deadline has been extended to June 26!
The goal of this conference is to bring together leading experts, students, young investigators and industry representatives to address recent developments and insights into the molecular basis of life and their consequences.
During the conference prestigious awards including the Otto Warburg Medal and the Fritz Lipman Lecture will be given and special keynote lectures will highlight the main topics of the conference.
There are also several exciting prizes for young scientists, which, in addition to prize money, include a presentation at the meeting:
- Picoquant Young Investigator Award (1000 €)
- Nikon PostDoc Award (750 €)
- Biomol PhD Award (500 €)
Detailed information on the prizes can be found at https://gbm-online.de/news-details/young-scientists-awards.html.
For more information, registration and abstract submission please visit the website https://molecular-basis-of-life.org/
The abstract submission deadline has been extended to June 26th!
Submit your abstract now! Additional (young) researchers will be selected from the submitted abstracts to present their research in 12 long and 38 short lectures during the conference.
Main topics of the congress:
• Biomolecules and their assemblies: from structure and dynamics to function
• Multiscale biochemistry of membranes and membrane proteins
• Energy for life - principles and diversity of biological energy conversion
• Biophysical chemistry and cell biology of interfaces and functional phase separation
• Computational biophysics and biology
• Imaging molecules of life
• New technologies for molecules in Life Sciences
• Cell biology meets systems and synthetic biology
• Signal transduction and diseases
• Structure-function-relationships regulating signaling events
• Supramolecular chemistry on proteins
List of confirmed speakers:
• Jörg Bewersdorf, Yale, USA
• Dorothee Dormann, Mainz, Germany
• Christos Gatsogiannis, Münster, Germany
• Johannes Messinger, Uppsala, Sweden
• Edda Klipp, Berlin, Germany
• Tanja Kortemme, San Francisco, USA
• Andrea Musacchio, Dortmund, Germany
• Felix Randow, Cambridge, UK
• Peter Rehling, Göttingen, Germany
Otto Warburg Award:
• Petra Schwille (Max Planck Institute of Biochemistry, München, DE)
Fritz Lipmann Lecture:
• Monika Fuxreiter (University of Padova, Department of Biomedical Sciences, Padua, IT)
---
Weitere Informationen:
https://molecular-basis-of-life.org Website of the conference

---
Die semantisch ähnlichsten Pressemitteilungen im idw