29.07.2022 14:46
Miscellaneous scientific news/publications
Media scientist at the museum: DSM strengthens digital activities with new professorship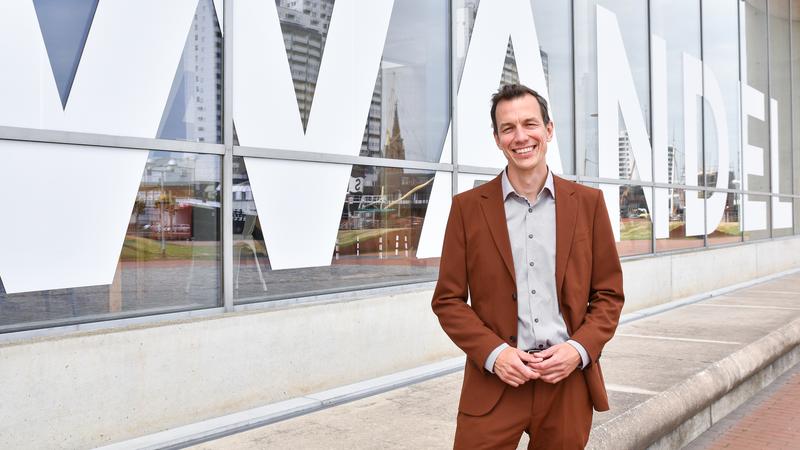 Hinweis zur Verwendung von Bildmaterial: Die Verwendung des Bildmaterials zur Pressemitteilung ist bei Nennung der Quelle vergütungsfrei gestattet. Das Bildmaterial darf nur in Zusammenhang mit dem Inhalt dieser Pressemitteilung verwendet werden. Falls Sie das Bild in höherer Auflösung benötigen oder Rückfragen zur Weiterverwendung haben, wenden Sie sich bitte direkt an die Pressestelle, die es veröffentlicht hat.
Museums around the world are facing the challenge of adapting exhibitions to the viewing habits of the digital age and presenting the themes of their own collections on the web in an attractive and informative way. With a newly created digitization team, financed by special supra-regional funds, the German Maritime Museum / Leibniz Institute for Maritime History (DSM) in Bremerhaven is tackling both tasks with verve. The team is now completed by a newly created professorship for knowledge processes and digital media in cooperation with the University of Oldenburg. The media scientist Prof. Dr. Sebastian Vehlken will strengthen the DSM crew as of August 1.
Already in his dissertation on the history of swarm research, he connected ocean knowledge with digital media. A magazine picture of sharks swimming through a school of fish fascinated him so much that he derived his doctoral topic from it.
As an eight-year-old, Sebastian Vehlken dreamed of piloting big ships across the oceans as a sea captain. "I now read the old children's books to my children. One of them has a painting of the WAPEN VON HAMBURG from 1669 on the cover, which is on display in the Cog Hall. So things are coming full circle for me," says Vehlken.
For the media scientist, the theory of digital media, the history of supercomputing and computer simulations as media of science have been important topics so far. During a study visit to Perth, Australia, he was captivated by the cover of a diving magazine: "Sharks were swimming through a school of fish. I couldn't forget the motif. It was clear to me that I wanted to explore movement underwater and incorporate maritime topics into teaching." Since then, he has been combining computer history, media theory and oceanography - and doing pioneering work in the process. When Vehlken thinks about climate protection, shipping logistics and cultural studies, he not only has relevant questions burning under his nails, but above all he sees enormous intersections that he wants to make visible and identify for DSM guests.
Until recently, there was no place in media and cultural studies for Vehlken's interest in maritime topics. Only in the last five years has the research field of "Ocean Humanities" or "Blue Humanities" developed in the Anglo-American world. The position at the DSM brings central themes from its spectrum to the forefront. "I look forward to many questions from guests, for example, what the future of port cities might look like, a renaissance of sailing ships or an environmentally friendly container ship. In a maritime museum, looking at the perspectives of everyone involved - from employees to industrial companies and ecological initiatives to ocean or materials research - is part of being able to show the entire spectrum of the relationship between people and the sea," says the 44-year-old.

And there is also great joy at the DSM itself: "Our research at the DSM has two major questions: What can we learn from maritime history for the future? And how can digital media positively influence the visitor experience in the museum and museum content be effectively presented in the digital space? Thanks to special funding from the federal government, our museum is becoming a center of excellence in the field of museum digitization," says DSM Director Prof. Dr. Ruth Schilling. "For example, we are developing methods of digitizing historical objects that will benefit other museums in the future. I am very pleased that we have been able to attract Prof. Dr. Sebastian Vehlken, an internationally renowned media scientist, who will bundle these exciting approaches to digital museum work and drive them forward."
As a fan of maritime history and an expert in digital presentations, he sees a lot of potential to intertwine modernity and history in the new permanent exhibition. "I'm a big fan of aesthetically well-done exhibitions that work with place. Technical applications can make the dynamic properties of an exhibit visible: How fragile is a ship? How does it move? Who has traveled on it? The focus, however, is on the impressive object that visitors want to see live and let it have an effect on them. If it's missing, even a VR experience is of less use."
Vehlken starts at the DSM on August 1. His position is linked to a teaching position at the University of Oldenburg. Students will have a choice of hands-on courses that will be closely intertwined with the DSM. From the history of the submarine cable to an insight into the digitized museum, he says, everything is conceivable.
CV: Prof. Dr. Sebastian Vehlken is a media and cultural scientist. He worked as Senior Researcher of the DFG Collaborative Research Group Media Cultures of Computer Simulation (MECS) at Leuphana University of Lüneburg from 2017-2021 and was also Professor in the field of media theory and media history at the Institute for Culture and Aesthetics of Digital Media (ICAM) there. From 2013-2017 he was Junior Director of MECS, and between 2015 and 2021 he held visiting professorships at Humboldt-Universität zu Berlin, at the University of Vienna, and adjunct professorships at the University of Freiburg and Leuphana. In 2014, he was a Research Fellow at the International Research Center for Cultural Studies Vienna. Previously, he worked as a research assistant (postdoc) at ICAM from 2010-2013, as a research assistant (predoc) at the Chair of Epistemology and Philosophy of Digital Media of the Institute of Philosophy at the University of Vienna from 2007-2010, and was funded as a DFG fellow in the Research Training Group Medial Historiographies at Bauhaus University Weimar from 2005 to 2007.
---
Weitere Informationen:
https://www.dsm.museum/en/press-area/media-scientist-at-the-museum-dsm-strengthens-digital-activities-with-new-professorship

---
Die semantisch ähnlichsten Pressemitteilungen im idw