17.01.2023 11:01
Scientific conferences
74th Mosbacher Kolloquium: Immune Engineering – from Molecules to Therapeutic Approaches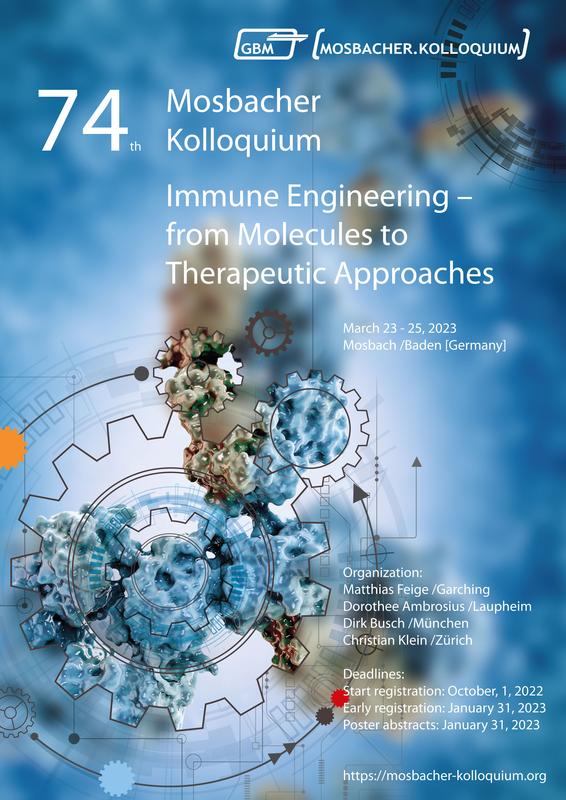 Hinweis zur Verwendung von Bildmaterial: Die Verwendung des Bildmaterials zur Pressemitteilung ist bei Nennung der Quelle vergütungsfrei gestattet. Das Bildmaterial darf nur in Zusammenhang mit dem Inhalt dieser Pressemitteilung verwendet werden. Falls Sie das Bild in höherer Auflösung benötigen oder Rückfragen zur Weiterverwendung haben, wenden Sie sich bitte direkt an die Pressestelle, die es veröffentlicht hat.
The 74th Mosbacher Kolloquium of the German Society for Biochemistry and Molecular Biology (GBM e.V.) will take place in Mosbach/Baden from March 23-25, 2023.
Under the title "Immune Engineering - From Molecules to Therapeutic Approaches", the organizers will welcome numerous renowned national and international speakers to the traditional event.

The field of immunology is currently undergoing some of its most fundamental changes in its history: from immune analytics and more classical immune interventions (like vaccination, hyposensitization or therapeutic immunosuppression), it is now rapidly moving towards engineering of entirely novel and highly disease- or patient-adapted therapeutics. These developments are founded on our largely increased molecular insights into the functioning of the immune system as basis for rational design of molecules and cells with the desired properties. No other field is currently translating results from basic science faster into biomedical applications. This is made possible by recent developments in structural, computational and synthetic biology, by novel genetic engineering tools but also by a close connection between basic and applied clinical research and developments.
The Mosbacher Kolloquium 2023 will cover the exciting and rapidly emerging field of immune engineering. It will lay a particular emphasis on linking molecular insights with biomedical applications, and on connecting basic academic research with the translational research both happening within academia and biotech/pharmaceutical companies. This idea is embodied in the organizer panel of this meeting, Matthias Feige (Technical University Munich), Dirk Busch (Technical University Munich), Dorothee Ambrosius (Laupheim) and Christian Klein (Roche Innovation Center, Zurich), which combines academic and industrial backgrounds, as well as the design of the sessions and the selection of the speakers.
The Mosbacher Kolloquium will feature three major sessions:
• Next generation antibody-based immunotherapies
• Engineering cytokines and their receptors
• Cell-based therapeutical developments
These sessions will give a broad overview of this emerging field and also exposing the next generation of young scientists to the many research opportunities that are currently being developed in this area:
Leading scientists and pioneers in these different fields will present their research together with a large number of young scientists. Special note should also be made of the awarding of the Eduard Buchner Prize to David Baker, a pioneer in the field of computer-based protein design, the Otto Warburg Lecture given by Matthias Mann, a world-leading mass spectrometrician, and the Feodor Lynen Lecture by Erika Pearce, who has been instrumental in developing our understanding of immune cell metabolism.
By bringing together leading international experts, from academia as well as from industry, that work on different aspects of immune engineering the meeting aims to establish new synergies and help to define future directions. A particular emphasis will be placed on recent transitions from basic research into the clinics.
For more information and registration, please visit the conference website: https://mosbacher-kolloquium.org

---
Weitere Informationen:
https://mosbacher-kolloquium.org conference website
https://gbm-online.de GBM website

---
Die semantisch ähnlichsten Pressemitteilungen im idw