05.04.2023 15:39
Press events
Invitation to the press tour: Final symposium of the "North Sea Wrecks" project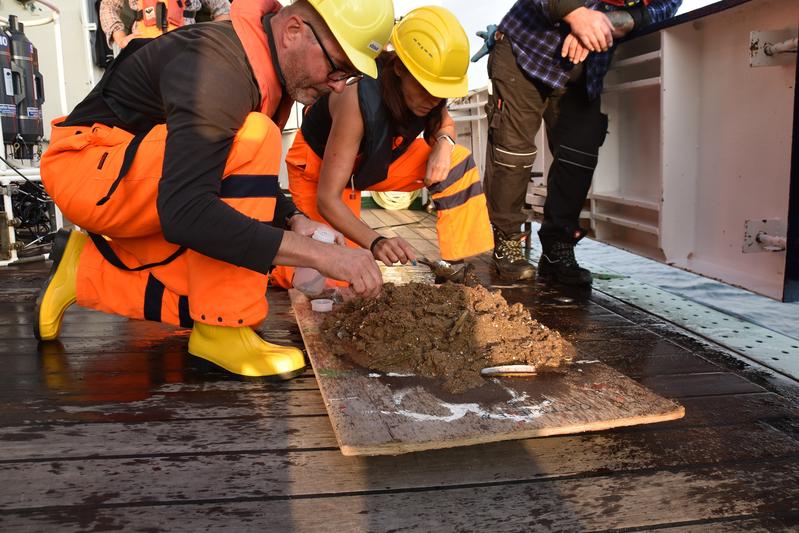 Hinweis zur Verwendung von Bildmaterial: Die Verwendung des Bildmaterials zur Pressemitteilung ist bei Nennung der Quelle vergütungsfrei gestattet. Das Bildmaterial darf nur in Zusammenhang mit dem Inhalt dieser Pressemitteilung verwendet werden. Falls Sie das Bild in höherer Auflösung benötigen oder Rückfragen zur Weiterverwendung haben, wenden Sie sich bitte direkt an die Pressestelle, die es veröffentlicht hat.
Invitation to the press tour on April 19, 2023 at the Alfred Wegener Institute, Am Handelshafen 12, in Bremerhaven.
Dear editors,
How alarming are the ammunition remnants of two world wars still lying in old wrecks at the bottom of the North Sea and other seas? What are the concrete dangers posed by war wrecks, sunken munitions and chemicals such as TNT in the water? The EU-funded international project "North Sea Wrecks" investigated these questions, diving to wrecks in the North Sea, taking samples and analyzing them. In a public symposium on April 19 and 20, the project partners will now announce the results after four and a half years.
On this occasion, we - the German Maritime Museum (DSM) / Leibniz Institute for Maritime History and the Alfred Wegener Institute, Helmholtz Centre for Polar and Marine Research (AWI) - would like to invite you to a press tour on
Wednesday, April 19, at 12 p.m.
at the Alfred Wegener Institute,
Am Handelshafen 12, in Bremerhaven.
AWI biologist Dr. Matthias Brenner (cruise leader of the HEINCKE expeditions) and DSM cultural anthropologist Dr. Sven Bergmann (North Sea Wrecks project leader) will accompany you to the stations of the project partners from Belgium, Denmark, Germany, the Netherlands and Norway. Afterwards you will have the opportunity to interview the following experts until 13:30:

Station 1 - War: German Maritime Museum (DSM), Cornelia Riml for traveling exhibition (Germany).
Station 2 - Hazards: Flanders Marine Institute (VLIZ), Sven van Haelst and Maarten de Rijcke for research cruises & scientific diving (Belgium)
Station 3 - Research: Aarhus University (AU), Dr. Katrine Juul Andresen for geophysical methods (Denmark)
Station 4 - Laboratory: University Medical School Schleswig-Holstein, Institute of Toxicology and Pharmacology (UKSH), Dr. Jennifer Strehse and Prof. Dr. Edmund Maser for toxicological results (Germany)
Station 5 - Risk Assessment: North.io GmbH, Simon van der Wulp and Jann Wendt (Germany) and Periplus Consultancy BV, Rens Cassée and Bart van Mierlo (Netherlands)
Station 6 - Policy Recommendations: NHL Stenden University of Applied Sciences, Maritime Institute Willem Barentsz (NHL), Dr. Welmoed van der Velde (Netherlands)
Station 7 - Transnational: IkerConsulting for Interreg project structure, Karsten Seidel and Ignacio Rada (Germany)
The tour will be held in German and English.

Have we aroused your interest? Then register at presse@dsm.museum by 12 noon on Friday, April 14.

For more information about the symposium program, please visit: www.dsm.museum/nsw_symposium2023.
North Sea Wrecks is a European interdisciplinary project with a budget of five million euros, funded by the EU through the Interreg program. In addition to the DSM, eight project partners from five countries are involved. The partners involved are: Alfred Wegener Institute, Helmholtz Centre for Polar and Marine Research (Germany); Vlaams Instituut voor de Zee (Belgium); Aarhus University - Department of Geoscience (Denmark); Stichting NHL Stenden Hogeschool - Maritiem Instituut Willem Barentsz (Netherlands); north. io GmbH (Germany); Periplus Consultancy BV (The Netherlands); Forsvarets Forskningsinstitutt (Norway); and the University Medical Center Schleswig-Holstein - Institute of Toxicology and Pharmacology for Natural Scientists (Germany).
With best regards,
Thomas Joppig
Head of Communication
T +49 471 482 07 832
joppig@dsm.museum
---
Die semantisch ähnlichsten Pressemitteilungen im idw