16.05.2023 15:40
Cooperation agreements, Organisational matters
Investment in teaching and research: Dieter Schwarz Foundation supports data science at the Hertie School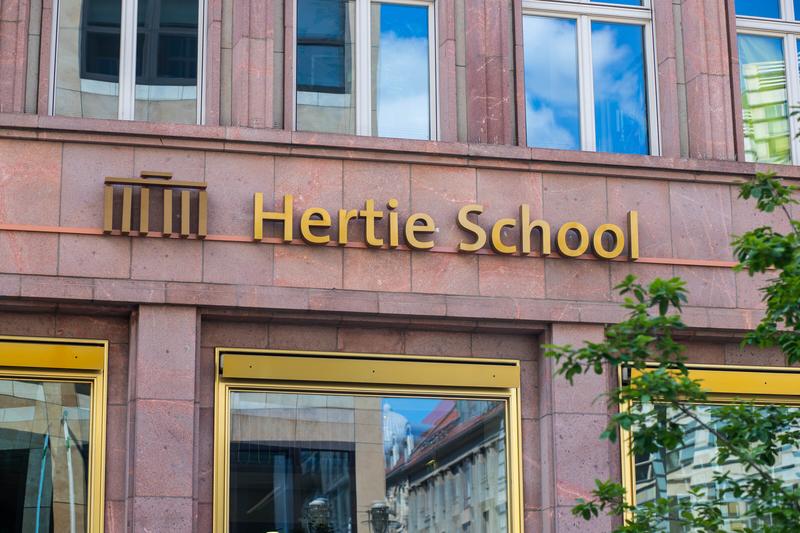 Hinweis zur Verwendung von Bildmaterial: Die Verwendung des Bildmaterials zur Pressemitteilung ist bei Nennung der Quelle vergütungsfrei gestattet. Das Bildmaterial darf nur in Zusammenhang mit dem Inhalt dieser Pressemitteilung verwendet werden. Falls Sie das Bild in höherer Auflösung benötigen oder Rückfragen zur Weiterverwendung haben, wenden Sie sich bitte direkt an die Pressestelle, die es veröffentlicht hat.
Berlin, 16 May 2023. The Dieter Schwarz Foundation is funding the expansion of data science at the Hertie School as of autumn 2023. Thanks to the foundation's commitment, the Berlin-based private university is creating a new professorship to research the benefits of data science for the common good. The funding also includes five full scholarships for students in the Master of Data Science for Public Policy programme. The collaboration is set for a minimum of six years. The funding will enable the Hertie School to analyse complex issues related to social media, artificial intelligence and digital technologies as a basis for future policy decisions.
Cornelia Woll: Further expansion of competence in data analysis
"Data is not only the most important resource of the future – it is also one of the most complex. We need to set the course for this research field today so that we can understand big data and use it to make sound decisions that benefit the common good. With the new professorship and five full scholarships, we are expanding our expertise in the field of data analytics and consolidating our position as an international university at the crossroads of research and practice," says Prof. Cornelia Woll, President of the Hertie School.
According to current planning, the new Professor of Data Science for the Common Good will be filled as early as the upcoming fall semester. The professorship will strengthen the research unit of the Data Science Lab, which is dedicated to innovation in data analysis and artificial intelligence. The first scholarship holders are expected to begin their master's studies at the Hertie School in the same period.
Reinhold R. Geilsdörfer: Data analysis is the crucial topic of the future
"We are pleased to enter into a strong cooperation with the Hertie School on this topic of the future. The current upheavals caused by digitalisation and artificial intelligence show how important research and the education of critical data experts are. As a mediator between science and practice, the Hertie School is the ideal partner for us," says Prof. Reinhold R. Geilsdörfer, Managing Director of the Dieter Schwarz Foundation.

About the Hertie School
The Hertie School in Berlin prepares exceptional students for leadership positions in government, business, and civil society. The school offers master's programmes, executive education and doctoral programmes, distinguished by interdisciplinary and practice-oriented teaching, as well as outstanding research. Its extensive international network positions it as an ambassador of good governance, characterised by public debate and engagement. The school was founded in 2004 by the Hertie Foundation, which remains its major funder. The Hertie School is accredited by the state and the German Science Council. www.hertie-school.org
About the Dieter Schwarz Foundation
Education and science are crucial to the development of our state and its ability to cope with the future. For this reason, the Dieter Schwarz Foundation has set itself the goal of building on these pillars and of promoting life-long learning. The current focus is on the Heilbronn Bildungscampus and on the experimenta science centre, which is also based in Heilbronn, Germany, and allows visitors to experience science and technology at first hand and with all their senses. The following guiding principle of the founder has shaped the work of the foundation since its establishment in 1999: "Education is our most important resource." (Dieter Schwarz)
Press contact
Alina Zurmühlen, Associate Press & Public Relations, Hertie School
pressoffice@hertie-school.org
Tel.: +49 (0)30 / 259 219 246
---
Die semantisch ähnlichsten Pressemitteilungen im idw