01.06.2023 10:30
Scientific conferences
Bremen Life Sciences Meeting 2023 unites researchers and industry experts at Constructor University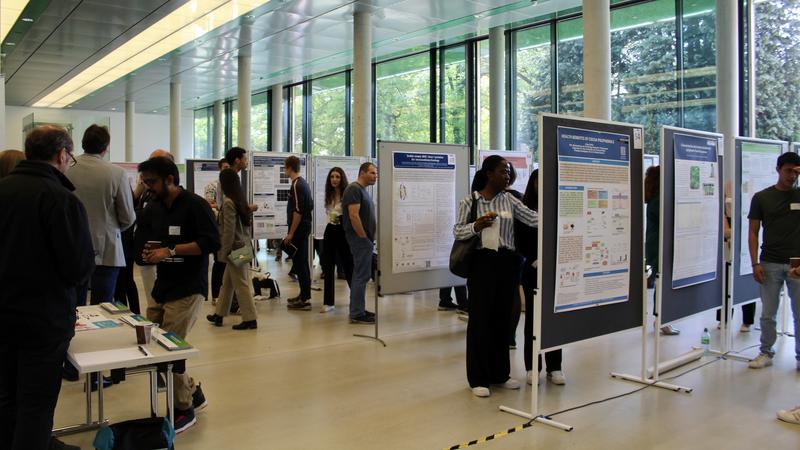 Hinweis zur Verwendung von Bildmaterial: Die Verwendung des Bildmaterials zur Pressemitteilung ist bei Nennung der Quelle vergütungsfrei gestattet. Das Bildmaterial darf nur in Zusammenhang mit dem Inhalt dieser Pressemitteilung verwendet werden. Falls Sie das Bild in höherer Auflösung benötigen oder Rückfragen zur Weiterverwendung haben, wenden Sie sich bitte direkt an die Pressestelle, die es veröffentlicht hat.
On May 15th 2023, the Bremen Life Sciences Meeting 2023 took place at Constructor University. Researchers from the University of Bremen, Constructor University, Bremen University of Applied Sciences and other institutions as well as company representatives came together for a day of lectures, poster presentations and discussions on the campus in Bremen.
Organizer Sebastian Springer, Professor of Biochemistry and Cell Biology at Constructor University, is satisfied with the outcome: about 160 people attended the event and 79 posters showcasing different research topics were presented. Scientists and students from biochemistry, cell biology, biophysics, computer science and related disciplines met to network, discuss and learn about each other's research.
"The Bremen "Wissenschaftsplan" (science strategy) calls for greater integration of research at the universities in Bremen. We think this is an excellent time to get to know each other better, discuss what we can do together, and perhaps agree on one or two collaborations," Springer said. "In addition, there are many positive aspects for postdocs, doctoral researchers and students who participate in such low-threshold and free of charge events," continued Saskia Zwilling, alumna of Medicinal Chemistry and Chemical Biology and assistant on the organizing team.
The meeting focused on molecular cell biology, biophysics, biochemistry, and biotechnology. Experts such as Olivia Masseck and Michiel Vellekoop from the University of Bremen as well as Dorothea Brüggemann from the Bremen University of Applied Sciences and Julien Béthune from University of Applied Sciences Hamburg were among the speakers. Nikolai Kuhnert, Katrin Rosenthal, Ulrich Kleinekathöfer and Felix Jonas from Constructor University itself also contributed to the program.
Between the panels, attendees had time to view the posters on display and join their presentations. In addition, various companies from the region presented their work, including Bruker, SiChem, Vibalogics, Macherey-Nagel, OmniLab, Thermo Fisher and GenScript.
Since 2002, life scientists from the international Constructor University and the University of Bremen have met and talked about their work, which resulted in various cooperations. "The first Bremen Life Sciences Meeting was held in 2015", sayid Springer. "Regional networking and integration are really important for scientific cooperations, and for training our students. We hope to repeat the event soon, perhaps already in the next year and with the inclusion of students and researchers from other universities in the Northern German region."
---
Wissenschaftlicher Ansprechpartner:
Sebastian Springer | Professor of Biochemistry and Cell Biology
sspringer@constructor.university | Tel.: +49 421 200-3243
---
Die semantisch ähnlichsten Pressemitteilungen im idw