08.08.2023 11:12
Miscellaneous scientific news/publications, Research projects
Domestic blood collection should relieve the burden of chronically ill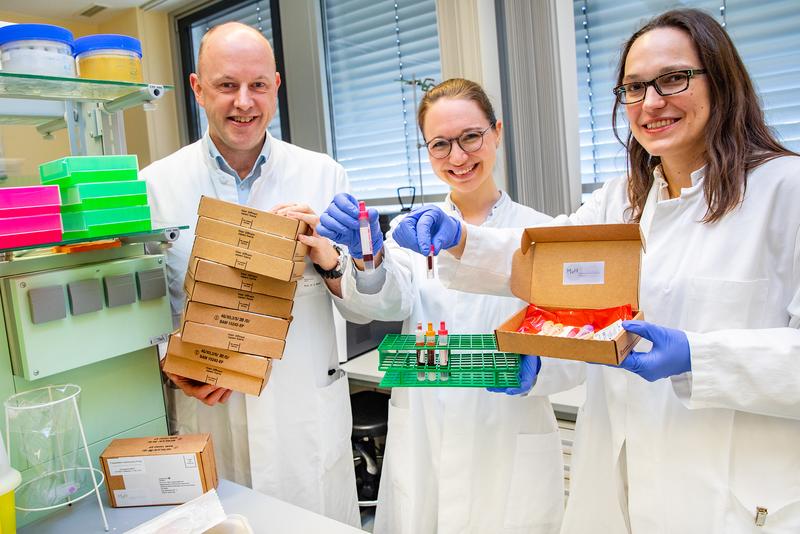 Hinweis zur Verwendung von Bildmaterial: Die Verwendung des Bildmaterials zur Pressemitteilung ist bei Nennung der Quelle vergütungsfrei gestattet. Das Bildmaterial darf nur in Zusammenhang mit dem Inhalt dieser Pressemitteilung verwendet werden. Falls Sie das Bild in höherer Auflösung benötigen oder Rückfragen zur Weiterverwendung haben, wenden Sie sich bitte direkt an die Pressestelle, die es veröffentlicht hat.
An appointment for blood sampling is often the only reason for regular personal visits to a specialist's practice. The project "Blut mobil" under the direction of the MHH aims to significantly reduce the associated costs for chronically ill patients.
About 40 percent of people in Germany have one or more chronic diseases. Many require permanent specialist care and must regularly introduce themselves personally to the practice. Blood tests are often the only reason for the appointment. This is particularly problematic in rural areas, where clinics are often far from home and require a long journey. Visits can also involve a great deal of organisational effort for older patients, professionals or people with educational and care responsibilities. This is where the "Blut mobil" project is headed by Professor Dr. Alexandra Dopfer-Jablonka and Professor Dr. Georg Behrens from the Department of Rheumatology and Immunology of the Hannover Medical School (MHH). In cooperation with the University Medical Center Göttingen, they want to develop and test a new concept whereby chronically ill patients can take a small amount of blood themselves at home and send it to a laboratory by post. The latter then analyses the blood sample and forwards the results to the supervising specialist practice. The project is supported by the European Social Fund for two and a half years with 750.00 euros.
Already small amounts of blood sufficient
"We are increasingly using telemedicine in medical care to save patients unnecessary journeys, but this does not work for rheumatology and many other specialist practices," explains Professor Dopfer-Jablonka. Because blood values are often used as biomarkers to monitor the health status of chronically ill patients and to prescribe drugs or to adjust medication based on these values. And so far, these have only been taken by clinical staff in practices or outpatient clinics.
Professor Dopfer-Jablonka and her colleague came up with the idea for the home blood collection concept during the pandemic. For their research project "DEFEAT Corona", they needed blood samples from coronavirus patients to look for associations between blood values and certain symptoms of surviving SARS-CoV-2 infection. Since the subjects could not be summoned to the MHH during the lockdown, the researchers sent out ready-made blood sampling kits and had the blood samples sent back to them by post. This showed that well-guided subjects could safely use the self-triggering sampling systems. Because the analytical technique has been greatly refined in recent years, even the smallest quantities of blood are sufficient for a laboratory determination. The quality of blood samples also appears to be comparable to those taken by medical staff in a practice or in a hospital outpatient clinic. "So we have already tested the principle," says the rheumatologist.
Saving time for patients and medical staff
In the "Blut mobil" project, the process is now to be tested for its suitability for everyday use and transferred to outpatient rheumatology care. "This is a unique approach in the country in the field of standard care," emphasises Professor Behrens. In the first step, a comprehensive survey of established rheumatology physicians and patients is intended to clarify the needs of both sides. "The system must be as easy to use and reliable as possible for everyone," says Professor Dopfer-Jablonka. Instead of going to a specialist's practice once a quarter, it could be like this for chronically ill patients in the future: They visit the practice only once a year and receive a blood sample for each of the next three quarters. The blood sample is packed in a pre-paid and addressed shipping box and sent to the laboratory, which analyses the blood values and then forwards them to the practice. The results can then be requested by phone or by video consultation. Required prescriptions can now be sent and redeemed electronically. At the same time, this also relieves practices that have to schedule fewer appointments for routine blood sampling.
In the long term, the system can also be extended to other specialist areas and other care offerings – for example, outpatient or inpatient care, emergency services or medical research. "Until now, we sometimes expect participants in our clinical trials to travel a long way to the MHH for a single blood sample," says the senior physician. "This is no longer up-to-date."
SERVICE:
For further information, please contact Professor Dr. Alexandra Dopfer-Jablonka, jablonka.alexandra@mh-hannover.de.

---
Die semantisch ähnlichsten Pressemitteilungen im idw